Product Review – The Charming Candle Co
Most of the time we are asked to review kids items but every now and then an opportunity comes up for a mummy treat. One such opportunity came up to review a candle from the Charming Candle Co and I was sent a Luscious Vanilla Luxury Jewellery Candle to review for this weeks Tried & Tested Tuesday.
The idea is that you have a beautiful candle which as it burns away, contains a little gold foil pounch. That pouch contains a little treat in the form of a charm bead or ring. Their site boasts that there are over 100 different designs available so you're not quite sure what to you will find.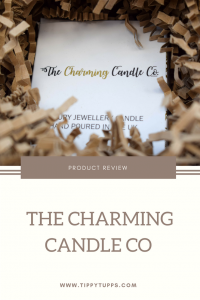 THE REVIEW
The candle is immediately appealing. Nicely weighted in a beautifully decorated jar, it feels like a little bit of luxury. The smell is lovely though be warned, it is very sweet so if that is not your thing then you'd be best picking one of their other scents. I love that the jar is reuseable as it's a great quality with a beautiful pattern and I fully plan to use it with some tea light candles once this one has burned away.
The burn time is great! I was using it for a few days and was thinking that I'd have to be buring it day in day out for a month before I got anywhere seeing as it only went down by about a cm….I caught a lucky break though and as it was burning down and I could see the little foil pouch was actually on the side of the jar rather than at the bottom like I expected. Me being that person that has zero patience, out came the tweezers! I managed to free the pouch from it's waxy prision and get my treat a little early! A little bit like cheating but it means that I'm enjoying my charm whilst still enjoying the smell of the candle as it happily burns away!
That treat was a gorgeous charm: a lovely little mother and child monkey. I don't know if the team from The Charming Candle Co chose that specifically for me or whether it was just luck, but it was the perfect match for me and now sits happily on my charm bracelet.
THE DETAILS
These candles are a British product; hand-poured here using natural wax with essential oils to give it a lovely fragrance oils. The candle promises a burn time of 60+ hours. Available online from The Charming Candle Co website, the Luscious Vanilla Luxury Jewellery Candle retails at £35.
THE VERDICT
I think this is a lovely product that really does feel like a little bit of luxury. This would be perfect for mummies of any age as a lovely treat for Christmas or a birthday. Not something that most mothers would buy for themself – afterall we're awful for treating outselves where there are things to buy for the kids – which is what would make this a lovely gift.
DISCLOSURE: I was provided with this item in return for my honest review. As always, all opinions expressed in this post are my own.