Eskdale Camping – a family friendly site
A few weeks ago, we headed up north to the Western Lakes for a weekend away with friends. Each year, a group of us all pack our kids and our kit into the car and meet up for a weekend of camping. It's easily one of our summer highlights as we love the simplicity of camping while catching up with good friends. This year we chose Eskdale as our base, and this is what we thought of the site.
ESKDALE CAMPING
Located at the foot of Hardknott pass – the steepest road in England – Eskdale camping is a beautiful site set in some stunning scenery. With 8 acres of grassland, there is room for 110 pitches. Pitches are allocated on arrival but to be honest, the staff are pretty flexible and work to meet your needs.
We were a group of 4 tents containing 8 adults and 7 children, and they couldn't have been more friendly and accommodating. Advising where to pitch to meet our needs. All the pitches are dual use which means they can be used for both campervans and tents and the electric hook up is accessible from anywhere. That's great news if you are camping with a group and want to stay close together.
FACILITIES
With a modern facility block that contains both toilets and showers, we found Eskdale camping to be clean with plenty of both available. I would mention that the toilet / shower block is closed from 11am – 12:30pm daily for cleaning. This is great for keeping this clean, but it's not the best for little bladders so if you are planning on staying close to the site at all for your visit it may be worth bringing a potty for little kids too. We had to set an alarm clock to ensure the little ones went before everything closed up for an hour and a half.
There are plenty of washing up areas available and even a little laundry room containing a washing machine and tumble dryer. The latter was well used considering the wet weather!
With a well stock shop containing not only camping essentials but also National Trust merchandise, there is also a little area where you can get hot drinks and toast which was a lovely surprise.
BBQ stands were readily available and – because this is 2019 after all – there was also free WiFi available throughout the site. We joked about it at the time, but to be honest because the mobile signal was non-existent, it was actually a welcome bonus to keep updated as to what was going on in the outside world.
THINGS TO DO NEARBY
Eskdale campsite is only a short stroll from the village of Boot which hosts a choice of 3 pubs for a drink post walk or a great place to grab a bite to eat in the evening. Something we did on two of the nights we stayed. It is also home to Eskdale Mill. Although we didn't go in, it is set in beautiful surroundings with bridges, waterfalls and small hills that even little legs can explore.
A real highlight for us though was the famous Ravenglass and Eskdale Railway. Taking you through some stunning scenery to the coastal town of Ravenglass, this is a wonderful gateway to a day out at the beach. We also discovered that the railway was also the inspiration of the Thomas the Tank Engine books. Needless to say, I had two boys – big and small – who were delighted.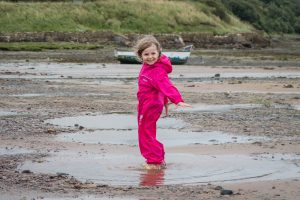 If you do have older kids though that are willing and able to walk a little further, then Eskdale is a fantastic base to explore from. Harter Fell is waiting to be conquered and Scarfell Pike is nearby. I have high hopes of coming back some day and exploring Stanley Ghyll Force. A 60 foot high waterfall in a deep gorge which you can see from the hills behind the Eskdale Mill.
OUR THOUGHTS ON ESKDALE CAMPING
Overall, we loved our time at Eskdale campsite. Friendly and accommodating, we really enjoyed our time there. Considering how far west it was in such a remote location, there is so much to do in the local area for all ages.
Great facilities in a great location: it was definitely a winner with us!
If you enjoyed this review, then why not check out our other adventures for inspiration.