Flip Out Chester
It's been a great summer and although it hasn't made a huge difference to us seeing as neither of my children are of school age yet, we've had a wonderful time joining in with all the school holiday activities on offer. Unfortuantely though, it's been a bit of a wash out with a lot of the summer being rained off. We live in a wonderful part of the country which is beautiful when dry but less fun in the wet. It is during this period that we found ourselves at Flip Out in Chester.
Now a trampoline park would not have been our first choice for two children under 3 years of age as it would traditionally make me think of older kids that would be too boisterous for little ones. However, after speaking with the venue who assured me that they have a specific area which was dedicated to under 7's we decided to give it a go and headed out to their arena.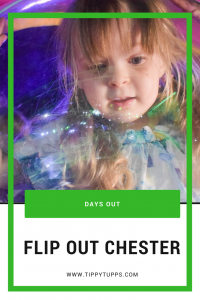 First of all what struck us was the entire atmosphere. I expected an upgraded warehouse filled with trampolines but what we were met with was so much more. There are restaurants, arcades and play areas before you even get into the main bounce arena. The lighting was perfect and along with the decoration and music provided environment perfect for fun. The kids just could not wait to bounce and neither could the adults to be honest.
We were given our tokens for the bounce, provided with special socks and ushered into the safety briefing which covered everything that we needed to know. Once we were kitted out and our bags safely stowed in lockers we were ready to go. The toddlers in our group were so excited by this stage and were raring to go. With good reason too as once inside though that's where the fun really begins!
There are a huge number of trampolines to explore along with total wipeout and ninja warrior zones, stunt zones, huge slides and basketball. For little ones the under 7's zone was wonderful with smaller trampolines and it's own little jump section, there was even a soft play area for them to explore. That didn't hold our toddlers back though as both took to the main arena with glee and all the other jumpers were so careful around the little ones to make sure they weren't knocked. Not only that but our two year old headed straight to the high slide!
We initally had 2 hours of bounce time but to be honest we didn't need that long. With the children being so little, an hour of soliding running, bouncing and fun and they were soon getting tired and asking for food! There was a choice of two places to eat: the cafe with viewing area and the American Diner. As we were all pretty hungry we went with the latter. The food was exactly as you would expect and happily refueled us all after an hour of jumping. The only thing I would say is that I'm pretty old fashioned and would have preferred a plate, but it wasn't enough to stop us enjoying our meals.
After lunch the bigger boys got a change to try out the Clip n Climb section and they had a great time scrambling up and down the different walls while the kids looked on. They may have been too small to do any climbing but they had a great time exploring this new area of the arena.
Overall I was so impressed with not only the arena itself but also the behaviour of it's bouncers. It was very well staffed and as result there were no incidents that I could see. A far cry from the boisterious environment that I was expecting. Not quite convinced to bounce yourself? That's no problem as access to the spectator area is free and wraps around the entire arena meaning you can watch others bounce or head over to grab a drink in one of the two restaurants. There is so much more to do here though. Arcades, games, the clip n climb area – all provide a great experience for adults and kids alike. I can see this being absolutely perfect for a party when they're older.
For now, my two just loved the sights and sounds. She enjoyed every bounce and ran around like a wild child wheres he was just captivated by it all.
DISCLOSURE: we were provided with entrance into Flip Out in return for my honest review. However, as usual all thoughts, opinions and words are my own.