Kitted out for Summer with Smiggle and Kangaroo Beach | AD
What do you get if you cross so bright beautiful and fun characters with a fabulous range of accessories? The new Kangaroo Beach range from Smiggle of course!
WHAT IS KANGAROO BEACH?
If you have preschoolers or KS1 kids, then the likelihood is that you've already come across Kangaroo Beach which is available to watch on weekdays on Milkshake at 7:35am.
Set in a place called Kangaroo Beach, the program follows four friends – Joey Pounce, Gemma the Platypus, Neville the Wombat and Frizzy the Koala – as they train with their lifeguarding heroes and have plenty of fun along the way.
The Bears love the adventure and I love that they also get some fantastic messages around water safety.
WHEN SMIGGLE MEETS KANGAROO BEACH
Smiggle have joined forces with Kangaroo Beach with a brand-new range that little ones are sure to love.
Kangaroo Beach Gemma Junior Character Backpack
Smiggle know how to make their backpacks both practical and so much fun and the Kangaroo Beach Gemma Junior Character backpack is no exception.
It has two spacious compartments, two drinks bottle holders and fabulous tri-colour strap details. Not to mention those amazing applique flippers and 3D bill. There is no doubt that kids will love it as much as my two do!
Kangaroo Beach Double Decker Lunchbox
Practical and fabulous, this lunch box is brilliant. With two tiers and insulated lining, it helps to keep lunches and snacks cool even in this hot summer we are experiencing at the moment!
With a convenient carry handle and tri-colour strap, it's easy for little people to hold and the fun design makes sure that they are proud to show off their lunch.
Kangaroo Beach Character Pencil Case
Nothing says getting ready for school like a new pencil case and the Kangaroo Beach character pencil case is so much fun. With great character detailing and tri-colour carry handle, its bound to be the pride of anyone's back to school kit. And with a handy ID card pocket, it will mean it won't get lost.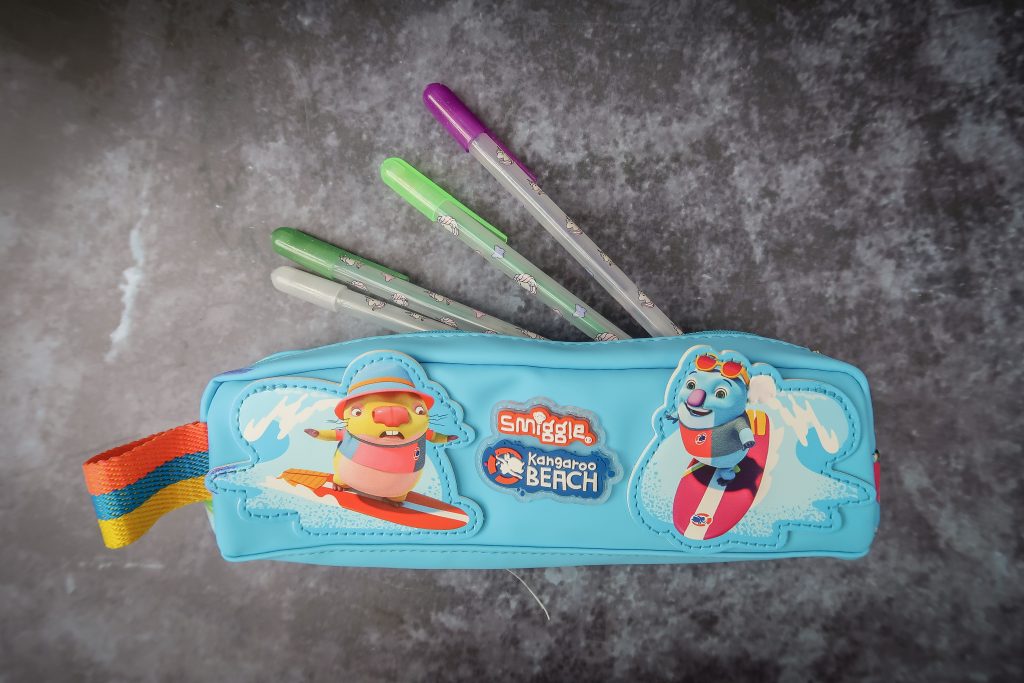 Kangaroo Beach Character Slapband
From practical to fun, the Kangaroo character slap band is available as either Neville the Wombat or Frizzy the Koala. Slap and go, my two love the totally tropical pineapple smell!
You can check out the whole range on the Smiggle website including drinks bottles, towels and stationary and don't forget to tune in to Milkshake on weekdays at 7:35am.
DISCLOSURE: we were sent these items for the purposes of this review. As always though, all thoughts and opinions are our own.