Messi Training System – Large Foldable Goal
AD | review – The Boy has recently fallen in love with football, as in LOVES it. Everywhere I look at the moment, he either has a ball with him, or is trying to get to a ball and mean mummy won't let him have them in the house. As his interest grows though, we are looking for ways for him to practice his ball skills, so when the opportunity came up to take a closer look at the Messi Training System, I thought it would be a great change to get some practice in!
What is the training system?
At first it "just" looks like a foldable goal in which case you may feel a little disappointed. At just 90 x 59 x 61cm it is small. However, it is designed to be that way as the purpose is for you to be able to practice your shooting accuracy. Yes you can of course use it as a regular goal to play with friends, but where the Messi Foldable Goal really comes into it's own is as practice.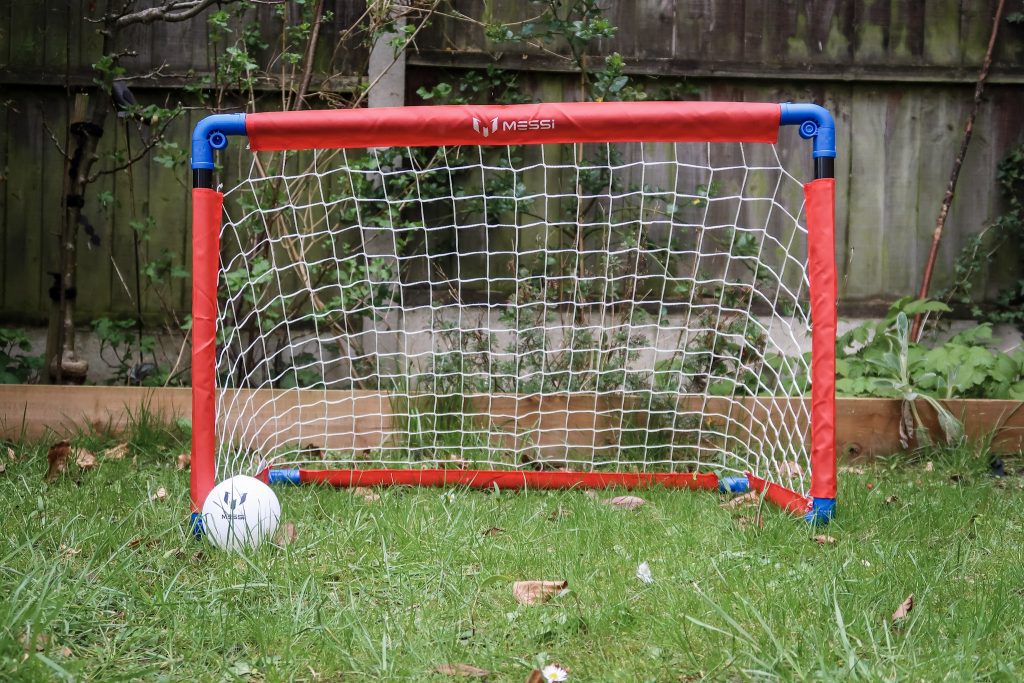 You think it won't be hard, but trust me, trying to get the ball into the net from a distance isn't easy. You definitely need some good ball control!
At just 1.02kg, the Messi Training System Foldable Goal is brilliantly light. It is so easy to assemble and folds away to store. I have no doubt that this is a going to be a great toy to use over the summer as we can just fold it down and pop it in the boot when we go to visit grandparents or head away in the caravan.
---
---
What's in the box
The Messi Training System Foldable Goal comes with 1x Messi large foldable goal, 1 x Messi ball and a pump.
Be warned, the ball is small to not only go with the size of the goal but to also help with ball control. We found it great but don't expect a full sized football as that it not what the training kit is about. Instead by using a small ball and goal, the Messi Training System encourages you to developed your accuracy.
I also just want to mention the pump as it is small, compact but still packs a punch so it's great for just popping in a bag and keeping handy.
Final thoughts on the Messi Training System
Overall I was impressed with the Messi Training System Foldable Goal. First of all, any toy that encourages children to spend outside being physically active can only be a good thing. I loved the fact that the goal was so light and that it folded down so small.
The Messi Training System Foldable Goal in (more) pictures
DISCLOSURE: we were sent the Messi Training System Foldable Goal for the purposes of this review. However, all thoughts, opinions and images are my own.