Vet Squad to the Rescue | AD
With the Bears birthday around the corner, there is one toy that is at the top of her wish list: the Vet Squad. For the past few years she has been saying that she wants to be a vet when she grows up so add the fact she loves animals to her love of small world play and I know that she will love this.
WHO ARE THE VET SQUAD?
The Vet Squad are a group for four friends – Ava, Emily, Yara and Robin – who are always ready to race to the rescue of their cute pet friends. They use their skills, knowledge and fabulous vet tech to care for the wonderful animals in their care.
What we also love is that your children can immerse themselves into their real-world play by tuning into their YouTube channel.
I actually like that these video shorts are made with real life play rather than an animated version of the girls. This is the kind of play that the bear will not hesitate to imitate with her figures.
VET SQUAD FIGURES
There are four to collect and you can choose Emily and Brooke the dog, Ava and Leo the cat, Robin and Snowy the owl or Yara and Luna the rabbit. Each character comes with their very own backpack – specific to their skills – along with 2 vet-tech accessories.
I won't lie, I have a little soft spot for Ava. It's the brown hair and fringe!
That's not all though. The animal assortment packs – available as a 2 pack or a 5 pack – are a brilliant way to be able to expand your collection. Once you have Emily, Ava, Robin and Yara, you can continue to add to their world through these cute pocket money toys.
With 10 animals to collect – along with buckets to tend to their colour changing injuries and bandages – the girls will end up tending to a zoo!
RESCUE VEHICLE PLAYSETS
The team don't just rescue on foot though, and these vehicle playsets help take their rescue on the road.
We were sent Emily's Reef Rescue complete with speedboat and cute turtle. Ava's Forest Rescue complete with quad and cute baby elephant. As well as Robins Air Adventure complete with helicopter and fabulous pony.
The attention to detail in these sets are fabulous. The little animals who wounds can be magically healed with water and sponge. The fact that Robin can use her helicopter winch to rescue the pony in need. That the little bandages are made to fit the animals and can be removed when they are better.
These little details and all the accessories really help bring this world of play to life.
As a parent though, that's not even the best part.
A TOY WITH A CONSCIENCE
What I really love about the Vet Squad is that they are partnered with the SEA LIFE Trust who work tirelessly in the real world to rescue and protect the life in our oceans.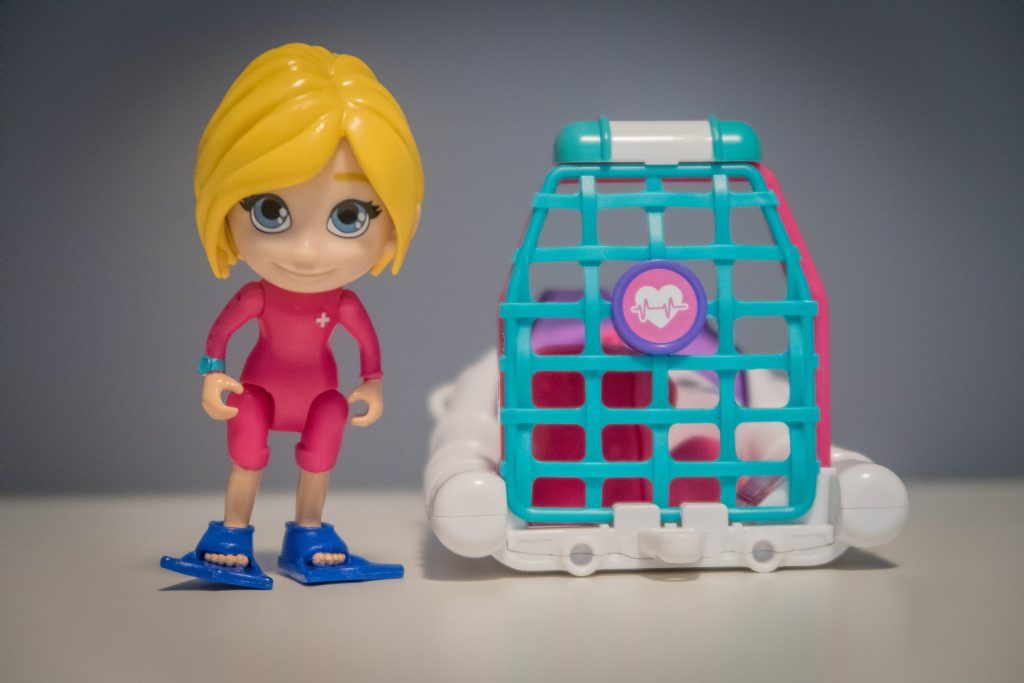 In practice this means that a donation from each Vet Pack sold goes towards supporting two SEA LIFE Trust sanctuaries: the Beluga whale sanctuary in Iceland and the Cornish Seal Sanctuary. As someone who was born and raised in Cornwall, I have so much love for this!
So, if you love a toy that is not only partnered with a wonderful charity but also comes with a central message based on helping animals and kindness, then this is one to add to the Christmas wish list.
DISCLOSURE: we were sent these items for the purposes of this review. As always though, all opinions are my own.